---
A Wandering Soul Returns Home
For nearly 40 years I have felt incredible remorse over the waste of human lives on both sides during my two tours in the Central Highlands of Vietnam. I retired from the University of South Carolina in the Spring of 2004 and moved to the Western North Carolina mountains. I soon realized that these mountains are very similar to those in the Central Highlands of South Vietnam. As I studied the area's history, I discovered, that a number of plant and animal species exist here, that can be found in only one other place on the planet, Southeast Asia. It appears that they are the last remnants of the vegetative belt that fringed the edge of the ice sheet during the last ice age. What a coincidence that I should be drawn to retire in an area so much like the place where I saw combat. With my newfound leisure, I began to surf the world wide web and began to research the Vietnam War and my old units. As I saw more and more of what had already been posted, I felt the need to tell the story of the
Grunts
I led in the 4th Infantry Division. Their daily courage and incredible heroism needed a voice. It was while working on the website, that I asked my Mom, if she had kept the letters I sent her from Vietnam. She found them, along with a bunch of documents I had completely forgotten about. In March of 1969 I had shot and killed a young North Vietnamese Medic on a ridgeline overlooking the Mang Yang Pass. He had some remarkable documents on him, which I sent back to the intelligence officer for evaluation. The documents had some strikingly beautiful pen and ink medical drawings in a notebook, so I asked to have them returned as souvenirs. When I got them back, I sent them home to Mom and asked her to keep them for me, because they were very important. By the time I completed my second tour overseas, I was so stressed out, that I did everything in my power to forget about those two years. When I got the my letters home and the documents I had sent back from Dam, all the memories came rushing back along with all the deeply buried emotions and remorse. I felt I needed to get the documents back to the family of this soldier, but I had no clue how to do it. I published some of the documents on the website, and Wayne Karlin, a Marine door gunner and fellow Vietnam Vet contacted me and said he knew how to get in touch with the Vietnam Veteran's Association in Vietnam. In the meantime, a journalist friend of his, Phan Thanh Hao , who runs a rehabilitation center and publishes the "Education and Times" newspaper, published the story about the documents in her paper. Shortly the Hoang family contacted her. They wanted me to bring the documents back to them. At that time, I was still too, troubled by the war to even dare consider returning to Vietnam. Wayne was going to Vietnam in May of 2005 to do some research on a book he was writing and volunteered to take the documents and turn them over to the family for me. You can read more about his trip
here
.
In may of 2008 I finally felt the time was right to visit the family in person. I had been in contact with them through email and we had become quite close. They had also located the burial site, where they believed Dam's remains were interred along with many others. I would accompany them and assist in their efforts to locate, identify, and return his remains to the village veteran's cemetery. What follows is the story of that incredibly healing experience.
Sunday
18 MAY 2008 1:09 PM Depart Ashville Regional Airport, North Carolina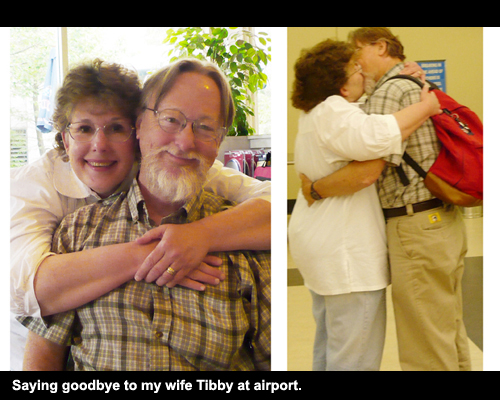 1:59 PM Arrive Charlotte/Douglas International Airport, North Carolina
.
As I sit and wait for my connecting flight, the totality of what I am about to do begins to sink in at last. I am going half way around the world to a Communist country, to meet the family of a man I killed. I would be returning to the country of my former enemy. For nearly forty years I had not allowed myself to experience any emotion. Not love, hate, fear, joy, not anything. My family tells me that I almost never smiled. Now I had reached the stage of recovery, where emotions welled up unexpectedly and without warning. How would I react in such a charged encounter? Was I doing the right thing? What must they think of me? I think I began to get really scared, then the plane arrived and I got on with the task of traveling.

Ashville to Charlotte - Duration 50 Minutes
********************************************************************************
3:16 PM Depart Charlotte/Douglas International Airport, North Carolina
4:37 PM Arrive Dulles International Airport, Washington, D.C.

Charlotte to Dulles – Duration 1 Hour 21 Minutes
********************************************************************************
Spent Sunday night with Wayne Karlin.
********************************************************************************
Monday
19 MAY 2008 9:00 AM Wayne and I met Jessica Phillips from the Center for Emerging Media, who will do audio recordings for a future radio program for the Center for Emerging Media. Jessica produced the 2007 Peabody Award series "Just Words" for Marc Steiner. We also met up with Doug Reese, our tour guide for the trip.

19 MAY 2008 12:20 PM Depart Dulles International Airport, Washington, D.C.
Cruising at 30 – 40,000 feet and at a ground speed of around 600 mph, the 6,800 mile trip to Narita, Japan took just over 14 hours.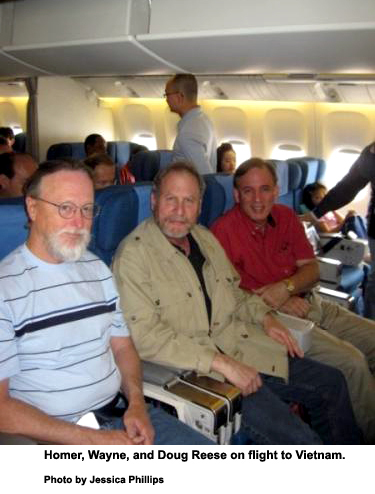 Tuesday
20 MAY 2008 3:25 PM Arrive Tokyo Narita Airport, Japan

Dulles to Narita – Duration 14 Hours 5 Minutes

********************************************************************************
Tuesday
20 MAY 2008 6:35 PM Depart Tokyo Narita Airport, Japan
The flight from Japan to Saigon, now known as Ho Chi Minh City, took 6 ˝ hours. We arrived around 11:00 PM and after just over an hour drive, we finally reached our hotel just after midnight.

11:00 PM Arrive Ho Chi Minh City (Saigon), Vietnam

Narita to Ho Chi Minh City – Duration 6 Hours 25 Minutes

********************************************************************************

Wednesday
21 MAY 2008 12:30 AM Arrived at hotel and crashed, totally exhausted, but unable to sleep, even though we got little sleep on the flight over. I finally got up and showered around 5:00 AM and went out to walk the streets and look into the shops.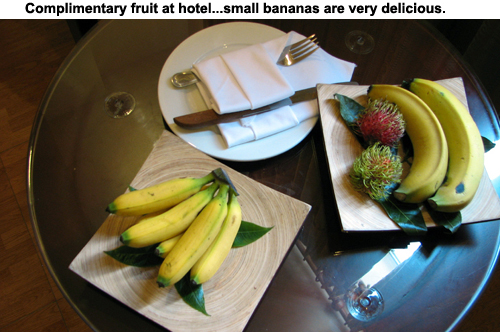 The smaller bananas are sweet and very delicious, as is the rambutan covered in soft bristles next to the regular larger bananas. The rambutan is eaten by slitting the skin and popping the sweet inner fruit out. The small bitter seed in the center is discarded. If you don't have a knife, you may bite the skin open, since the spines are soft and harmless. Later I visited the park across from the Spring House Hotel, where we are staying. This beautiful scene was in a small pond there.




It was warm but tolerable when we got in around midnight, but by mid morning, it was hot and muggy. You got sweaty very quickly in the sun. There is a mild breeze that helps as long as you stick to the shade. Jessica and Wayne got up in time for a late breakfast with Doug and me. I had Bun Cha - a dish of rice vermicelli with barbecued pork and vegetables. By noon it is so hot and humid that your underarms are wet and perspiration is beginning to run down your forehead into your eyes. Soon your back is soaked and it gets much worse as the sun heats thing up in the afternoon. This is the Vietnam I remember.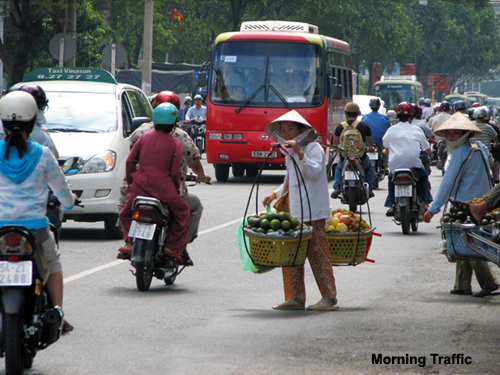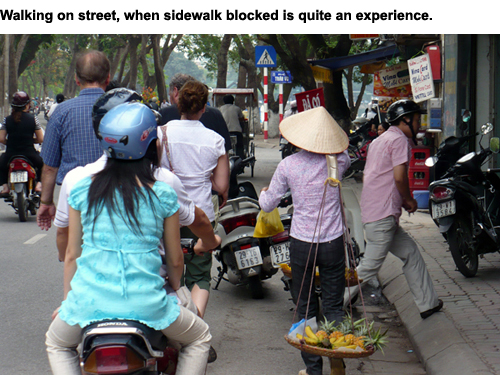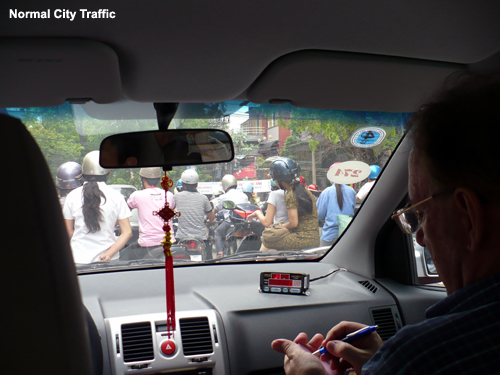 Went back to the hotel, where Wayne met with a friend, while Doug, Jessica and I went to the nearby market. They have almost everything you could think of in the densely packed stalls, jewelry, pottery, fabrics, vegetables, meats, purses, hats, etc. The operators were very persuasive, taking you by the arm and talking you into their stall stroking your ego to make a purchase.




Next Doug took us by cab to a hotel in downtown Saigon, where we went up to the roof and took panoramic shots of the city from the 18th floor.




We returned to the hotel and checked out, stopping for lunch at a restaurant in another hotel on our way to make our 3:00 PM flight to Hanoi. The flight was postponed until 7:30 PM because of weather. We arrived in Hanoi after a two hour flight at 9:30 PM.

Ho Chi Minh City to Hanoi – Duration 2 Hours

********************************************************************************

After an hour long, death defying car ride, we checked into the Hong Ngoc Hotel around 10:30 PM. Everyone else went out for supper, but I was exhausted and stayed in the room and slept after calling Tibby and leaving my room number and phone number on the answering machine. Both in Saigon and Hanoi the traffic noise is incredible, since both mopeds and cars are constantly blowing their horns to make each other aware of their presence.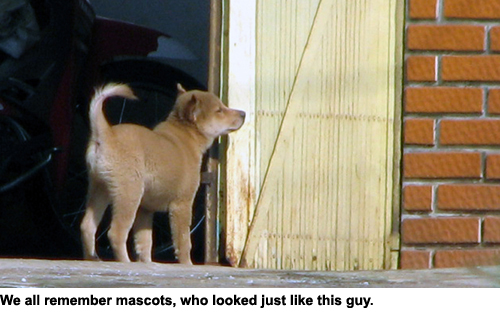 The traffic noise along with the habit the Vietnamese have of carrying on more than one conversation at a time, makes it extremely difficult for me to understand what people are saying. Sometimes I just can't understand a thing. Wayne or someone has to lean close and shout to be understood. It is extremely tiring to have to concentrate on lip reading to get some sense of what is being talked about. The hearing aids do not really help, since they amplify the background noise as well as the speech I am trying to understand. One of the characteristics of my post traumatic stress is difficulty in engaging in "small talk". I have done more of that in the last three days, than in the preceding month. I am frankly amazed that I find it so easy over here. Tibby called back late and we had a short talk. She really seemed glad to hear from me. I was definitely glad to hear her voice. This is the longest we have been apart since we got married.

Thursday
22 MAY 2008
The currency drives me nuts. The exchange rate is 1600 Dong for 1 US dollar. The math is very messy.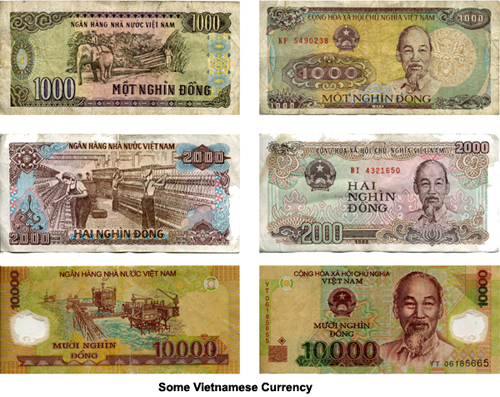 Tibby called again this morning and we had a long talk. Sure do miss her. Have a touch of diarrhea, must not eat any more salads, they are sometimes washed in contaminated water. I also use bottled water to brush my teeth and take care not to get shower water in my mouth. We spent morning walking around the lake where John McCain was shot down.



Jessica was followed by this street vender, who finally asked her if she wanted to take a photo carrying the load and wearing the hat. They will try anything to make a sale and are quite often successful. We also saw this monument to John McCain and were puzzled, until our interpreter informed us that the monument was to the soldier who shot him down.




We stopped at Vietnam's oldest pagoda, the Tran Quoc Pagoda, on the West Lake.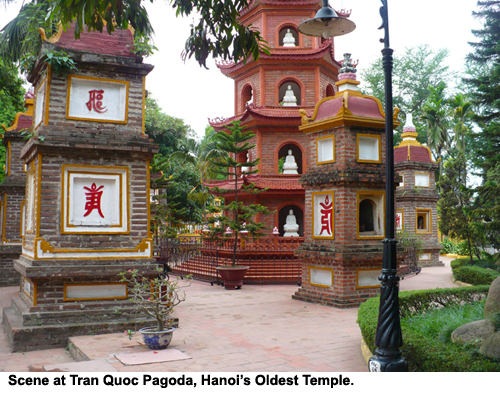 Continue


---
All Email addresses are in picture format only to discourage web bots from harvesting for junk mail lists. Type them into your mail manually. Site designed for Internet Explorer Version 6.0 or higher, viewed with text size medium and desktop resolution of 1024 x 768 pixels.
---
Webmaster:Homer R. Steedly Jr. (Email: Swamp_fox at earthlink.net) Copyright 08/12/1995 - 06/02/23. Commercial Use of material on this site is prohibited.